A three-day weekend? How decadent! Yep, that's what we thought too. Then we got these pix from the lovely Ms. Kyra Phillips: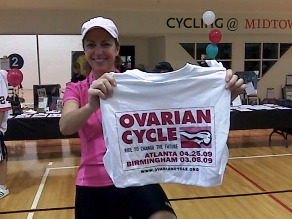 KP pedaled her butt off, and was one of the top 10 fundraisers Saturday!
On Saturday, she pedaled for 6 solid hours to benefit Ovarian Cycle. The non-profit supports development of an early detection test for ovarian cancer, and tries to boost awareness of the disease.
Kyra's grandmother (for whom she was named) died of ovarian cancer at age 53.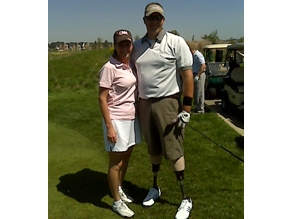 Kyra and her golf partner, Staff Sgt. Dale Beatty.
On Monday, Kyra hit the links for the Fisher House Golf Classic.
Fisher House provides service members' families a free place to stay while their loved one gets specialized treatment at a military hospital or VA medical center.
Kyra partnered up with Army Staff Sgt. Dale Beatty, who lost both of his legs to an anti-tank mine in northern Iraq.
Staff Sgt. Beatty received his Purple Heart personally from President Bush. He's a dad of two little boys, who's cycled the Marine Corps Marathon. Per a Kyra update yesterday: "great sense of humor and a real great golfer."
Two really great causes - getting some help this weekend. For more info, or to contribute, you can click the embedded links.