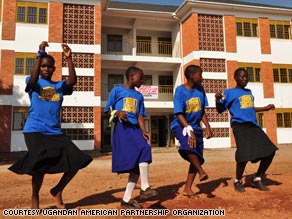 Orphans perform at the opening ceremony for their new home in Mutungo, Uganda.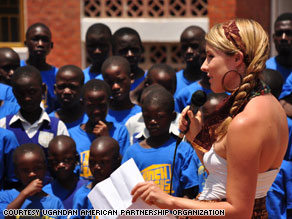 Brittany Merrill was 19 when she first visited Uganda and dedicated herself to the creation of the orphan home.
Every week here in the Newsroom with Tony Harris, we'll take a closer look at the people and organizations working to make a positive change in the world and how YOU can make a difference. We are doing this in partnership with CNN's Impact Your World.
American Brittany Merrill was visiting one of Uganda's shantytowns of mud huts and wooden shacks, when she found her purpose in life. She was inspired by the faith and determination of one woman who cared for 24 street children that ran about with bare feet, torn clothes and unstoppable spirit. After building wells in villages and an orphanage that can accommodate 180 street children, Brittany and her partners can not be stopped either, with five more projects underway. They are making a difference, one heart and village at a time.
Here are a few of the organizations making a difference for the children in Uganda:
Ugandan American Partnership Organization
To find out more ways to help children around the world and how you can make a difference, visit CNN's IMPACT YOUR WORLD