Monday, NFL Commissioner Roger Goodell reinstated former Falcon Quarterback Michael Vick to the NFL on a conditional basis and will be considered for full reinstatement and to play in regular-season games by Week 6 (October 18-19) based on the progress he makes in his transition plan.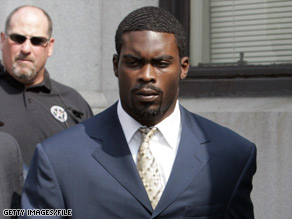 Michael Vick's Road to Redemption
Vick is also set to begin work with the Humane Society soon. Vick will be part of an anti-dogfighting campaign aimed at preventing youths from getting involved in dogfighting.
We want to know. Is Vick doing enough to repair his image and show remorse? Do you agree with the NFL's decision?