[Ed. Note: CNN is not immune to the effects of military deployment. Bonnie Gass Turner, an associate producer on the Don Lemon show team, recently said good-bye to her husband, Specialist Clark Turner, as he deployed to Afghanistan. This is his second deployment. He served in Iraq for 18 months in 2005-06. This is Bonnie's latest blog entry.]
From CNN Associate Producer Bonnie Gass Turner:
"How Long Until He Comes Home?"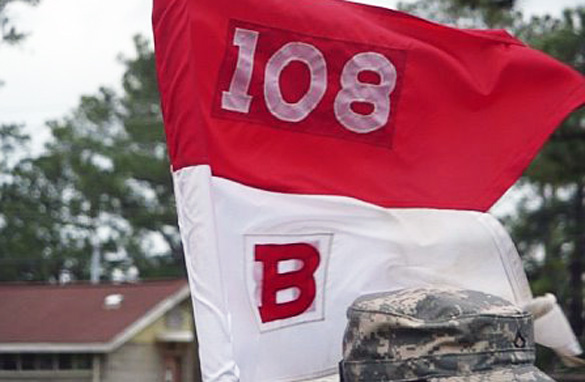 Clark's unit trained for six weeks at Camp Shelby in Mississippi and many of the families drove down to spend a week with their soldier at the end of their training. Although it wasn't exactly a vacation, Clark and I had a good time. We had tickle fights. We bickered about whether the oysters we had on our last summer vacation were baked or steamed. He insisted on having complete control of the radio in the car. I guess you could say we were like peas and carrots again.
My army wife friend Kelly and I left before daylight for the six-hour drive to Hattiesburg so we would arrive in time for the guys to be dismissed for their four-day pass. As it turned out, they were dismissed early. The drive was long (I didn't think we'd ever get out of Alabama). We finally arrived in Hattiesburg and as we drove down Highway 49 in search of Camp Shelby, I was startled by someone honking at me as I was stopped at a red light. I looked over and it was Clark driving a military van. He waved and smiled. After not seeing my husband for six weeks, it was pretty funny seeing him stopped next to me in a van, honking at me. I couldn't stop laughing.
The next day we headed to Biloxi. I got to know a few of the other wives and the guys enjoyed every bite of steak and every beer (or every shot as the case may be). [cnn-photo-caption image="http://i.cdn.turner.com/cnn/2009/images/05/07/art.clarkslots.jpg"%5D%5Bcnn-photo-caption image="http://i.cdn.turner.com/cnn/2009/images/05/07/art.bonnieclarkmiss.jpg"%5DAfter living it up at the casinos for four days, we headed back to Hattiesburg where we spent the next four days relaxing and eating out. (The fact that the Army had the guys training in the most boring town in the U.S. didn't help much for finding things to do). We all dreaded Sunday when we would have to say our goodbyes. Sunday came fast. It was raining. We were all sad-faced. We checked out of our hotel and the guys reported for formation. Many of the guys, including Clark, were given an award for outstanding achievement in their deployment training. They were then told that because everyone was well-behaved on the four-day pass, they would be allowed to spend one more night at the hotels with their wives. Just as we all had a pit in our stomachs dreading the final goodbye, hearing the news threw us all for a loop. (Talk about an emotional rollercoaster!). We were happy and frustrated at the same time. The wives all scrambled to find another hotel room. Some wives had to return to work the next day and couldn't stay another night. I was one of the lucky ones. [cnn-photo-caption image="http://i.cdn.turner.com/cnn/2009/images/05/07/art.clarksmiling.jpg"%5DThe one thing I've learned from the Army so far is that things aren't very organized and don't think or plan too far in advance because something always changes at the last minute. But as Clark would say, that's just the way it is.
Monday came and we said our goodbyes. There were lots of hugs and kisses and not a dry eye in the house. I continued to ask Clark for one more hug and one more kiss until he finally said, "Will you let me go already? I have to get to the barracks." Clark isn't one for drawn-out good-byes.
The reality that Clark is officially deployed has really set in now. They arrived in Afghanistan more than two weeks ago. The army has given them some time to adjust to the country and get settled before they leave for their final destination. Communication has been difficult. I was spoiled and got used to being able to call his cell phone and talk to him just about every day during the months he was training. I'm trying not to get too depressed when I don't hear from him, but knowing he isn't in the thick of it yet is a little worrisome. I also didn't expect our conversations to be so difficult. At first I thought it would be a good idea to make a list of all the things I wanted to ask or tell him so I wouldn't forget when I talked to him. "So-and-so's wife said that you might not get a 15-day pass to come home" or "I had a roofer come to the house to give me an estimate on getting the roof fixed" or "I sent your mother a birthday gift." I rattled off each item on my list as the phone card minutes ticked away. But then I felt like I was worrying him too much with things going on at home. Then I thought about asking what he needed or wanted me to send him. After telling me to send baby wipes and his Playstation, he told me to quit worrying about the deployment and to go do something enjoyable. (Not think about the deployment...how do I do that? That's just about impossible). We will soon coordinate setting up Skype and where to get the best phone cards, but we're taking it one day at a time for now.
After talking to other army wives, I think we have all had a meltdown at some point since they've been gone. Some have had multiple meltdowns. It makes me feel better knowing that I'm not the only one. It's hard going on Facebook and seeing happy postings from other wives who have talked to their husbands when I haven't heard from mine. Or I'll be having a good day and have a wife call me for support because she missed the call from her husband and her day isn't going well. I wish we could all have a meltdown on the same day. I'm so thankful to have my other army wife friends. I don't think I could get through this without them. I keep asking myself, "How long is it until he comes home?"