From CNN Senior Director Roger Strauss:
It's 6 a.m. on Saturday and my alarm is blaring. Twelve hours from now, I will be at work directing Don Lemon's shows, but right now I have to drag myself out of bed because I am participating in the Susan G. Komen Race for the Cure in downtown Atlanta. I am not alone. Fifty co-workers and their families are on the Turner Broadcasting/CNN team, and a record 15,000 of my pink-clad "closest friends" will join me, including one thousand breast cancer survivors.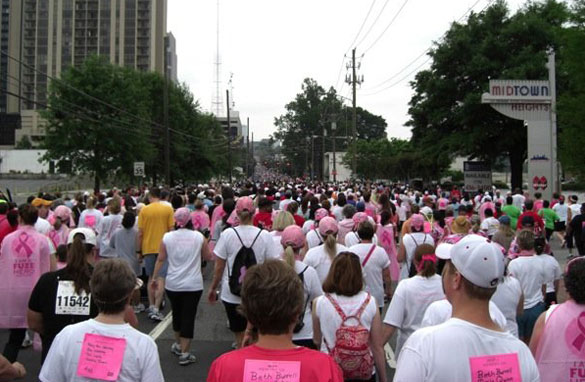 One of those survivors is my wife, Eve Kofsky. Twice.
We all know someone who has had an encounter with breast cancer. In addition to my wife, I have friends who have had it at a young age. Even my uncle has had it. Yes, men can get breast cancer too. At the Race for the Cure, breast cancer survivors are in a special, pampered club. They get fed breakfast and get pink T-shirts and numbers, which signify that they are survivors. At the end of the race, they get pink roses, medals and every one of them is mentioned by name as he or she crosses a private finish line decorated in pink balloons.
[cnn-photo-caption image=http://i.cdn.turner.com/cnn/2009/images/05/10/eve.jpg caption="Eve Kofsky, 2-Time Cancer Survivor"]
It's a club that makes you feel special on race day, but not necessarily a club you want to be a member of.
So as you celebrate Mother's Day this year, take a moment to think about all of the brave people out there who are battling breast cancer or have survived it. The Atlanta walk raised over $1.5 million towards the fight against the disease. We can only hope that some day a cure will be found. Then I can go back to sleeping late every Saturday of the year.