Bob Barker spent more than 50 years on television. He is synonymous with the game show The Price is Right – no offense Drew Carey. I remember watching the show as kid thinking how cool it would be to hear the words: "Betty, Come on down, you're the next contestant on The Price is Right!" While that has yet to happen, I did get a warm welcome when I rang the doorbell at Bob Barker's home in the Hollywood Hills. Although, for a moment I wasn't sure I was at the right place. The porta-potties parked on the street out front kind of threw me. Turns out they were for the crew shooting a Ben Stiller movie right across the street from Mr. Barker's house. I was expecting a publicist or assistant to answer the door of Barker's beautiful Spanish style home, but it was none other than the former game show host himself.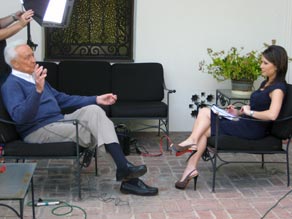 He greeted me with that signature voice of his. It's funny how after watching someone on television for so long you feel like you know him. We walked to his patio where my photographer was almost finished setting up lights for the interview. It was here where I met one of Barker's closest companions, a chow mix named Jessie. Barker tells me she's a shelter dog. That may be the case, but she's clearly made this her home. All Jessie has to do is groan and Barker is quick to pet her. And she doesn't mind interrupting an interview for a belly rub. There's a real connection between these two. It's no surprise. Barker is known for his love of animals. For many years, he ended The Price is Right with this message: "Help control the pet population, have your pets spayed or neutered."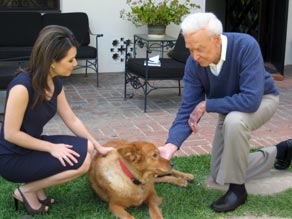 Just like on the show, I found Barker to be warm and witty. He has some pretty good one-liners, as you'll see in my interview. This is a man who spent half a century on television, even watched his shows go from black and white to color. But after 19 Emmys and 35 years on The Price is Right, there are some things you might not know about Barker. Like the fact that Chuck Norris taught him martial arts, which eventually lead to the hilarious fight scene with Adam Sandler in the movie Happy Gilmore. Oh, and who can forget this "priceless memory" – Barker was offered a part in a porn flick. Did he take it? Check out my interview.
Join me and TJ Holmes every Saturday & Sunday in the CNN Newsroom starting at 6am ET/3am PT.