President Obama will be Cairo, Egypt to deliver what's being called a "major speech" to Muslims. White House officials say the President will address issues "that matter to people's lives" such as economic development, education, health, science and technology. President Obama is also expected to express the need to promote democracy and human rights.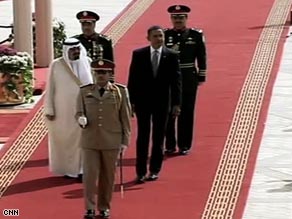 Obama arrives Wednesday in the Saudi Arabian capital on the first leg of his trip to the Mideast and Europe.
Back home, potential 2012 GOP presidential candidate Mitt Romney says Obama needs to stop using foreign soil to apologize for U.S. relations.
We'll have reaction from our reporters around the world: including Iraq, Lebanon, Israel, Pakistan and Afghanistan. But we want to hear what YOU think.
The speech will be broadcast in the 6am ET hour. CNN's American Morning will carry it LIVE. Leave your comments below or check out this iReport assignment.