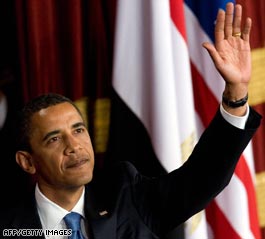 President Barack Obama delivered his long-awaited speech this morning on American and Muslim relations, tackling an array of issues. Among conflicts the president cited: the wars in Iraq and Afghanistan, women's rights, economic development, religious freedom and democracy in the Muslim world.
We will reair a large portion of the speech at 11am ET, but we also want to hear from you. What did you think about President Obama's speech?
Leave us a comment and we'll share some of them on air in the CNN Newsroom - 11am – 1pm ET.