Ahhhhh…the early '80s...remember how fun that was?
The bigger the hair, the better–with the teased mall bangs, the must-have accessories like spandex, white frosty eye shadow, leg warmers and high-top Reeboks.
I would love to insert a picture here, but…well, lets just say, the hair wouldn't fit.  So we'll forget about that.
However, one thing you can never forget if you're from those head-bangin', rock-n-roll times, is the music.
There I was in my best friend's Pinto, with two-tone doors, cruising the strip in Mobile, Alabama…windows rolled down, jammin' to STYX.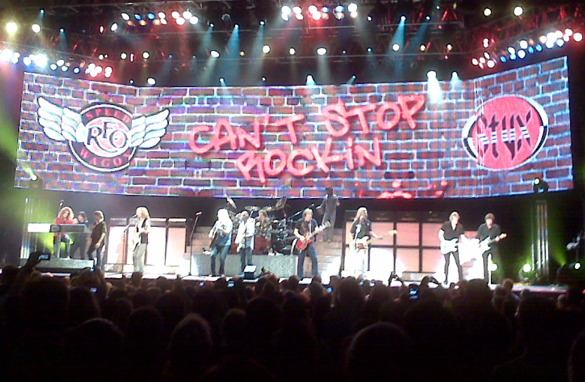 Styx and REO Speedwagon prove that they can't stop rocking as they play a sold out show in Atlanta Sunday night.
When I moved back to San Diego, the jammin' continued, but this time, it was on the beach, with my step-brother's old surf board on one side, and my AM/FM radio on the other, of course, listening to the DJ spin STYX…wow, why am I feeling so archaic right now?
Oh, how I wanted to be a Renegade...who had it made.
[cnn-photo-caption image=http://i2.cdn.turner.com/cnn/2009/images/06/23/setlist.small.jpg caption="The Styx set list aka the sound track of our misspent youth."]
Well, I finally got my chance...
My producer, Sonya Houston, and I got to go see STYX here in Atlanta, Georgia and not only did it throw us back to the strips we cruised and the waves we rode, but we got to meet all "the guys."
[cnn-photo-caption image=http://i2.cdn.turner.com/cnn/2009/images/06/23/k.s.styx.jpg caption="Kyra Phillips, Tommy Shaw, Sonya Houston and Larry Gowan backstage after the Atlanta show."]
I was lucky enough to meet Larry Gowan in Canada when he honored my sweetheart, JD, as he was inducted into Canada's Broadcast Hall of Fame. Larry never forgot what JD had done for him back in his Canada radio days. JD always knew great talent.  He recognized that in Larry and always tried to lift him up within the competitive music world. Matter of fact, Larry pulled the original interview JD did with him for City TV's "The New Music" program and creatively voiced over the entire interview with Larry's "own words."

It was classic. Classic "Gowan."
Which leads me to "Classic Gowan" part two.
As a thanks for "inside STYX," we offered up "inside White House."
The next thing I knew, the band's big silver tour bus was rolling up to 1600 Pennsylvania Avenue, and the rest of the story, my friends, was a made for TV moment...literally.
I guess for a period of just a few hours...whether it was back stage or back in the White House press room,
Larry, Tommy, Todd, Chuck, Kyra and Sonya lived out the lyrics:
Our memories of yesterday will last a lifetime
We'll take the best, forget the rest
And someday we'll find these are the best of times
[cnn-photo-caption image=http://i2.cdn.turner.com/cnn/2009/images/06/23/keith.workin.small.jpg caption="Roadie Keith Marks packs up Styx stuff and gets it ready to hit the road."]
Check to see if STYX is rolling into your town on their summer tour. And see what Larry Gowan is up to on his website (also see if you can spot the Davy Jones look-alike album cover.)