New York (CNN) - Students at the Harlem Children's Zone are no strangers to challenges. The teenagers at the renowned not-for-profit school have grown up in some of New York's toughest neighborhoods – neighborhoods troubled by crime, poverty, and disease. But they've been fortunate recipients of help from their community. And now, they want to give back by reaching out to youngsters facing extreme difficulties of their own a continent away in the Democratic Republic of Congo.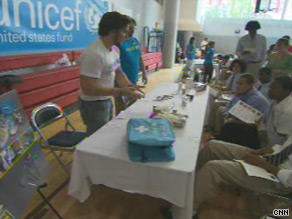 120 students joined U.S. U.N. Ambassador Susan Rice and members of UNICEF (The United Nations International Children's Emergency Fund) this Monday to kick off President Obama's "United to Serve," a program encouraging Americans to give back to the less fortunate.
Rice told the students that their generation "will have more to do with people in other countries than any other generation in our history." She went on to tell them, "Your success…will depend to a great extent on your ability to work with kids and people in other parts of the world."
The students at the Harlem Children's Zone are doing their part by assisting in the donation of material items to students displaced in the Democratic Republic of Congo (DRC) while learning specifically about the struggles their counterparts face. Tempestt Tucker, a student at the Harlem school, expressed that she and her fellow students wanted "to help them... get rid of diseases and not be hungry."
Ambassador Rice gave the children a rudimentary course on the work done at the United Nations, and explained the current conflict in the Democratic Republic of Congo (DRC), where ethnic Hutu and Tutsis have been warring over natural resources and territory. Tens of thousands have been killed and left homeless.
The students were able to sit in an "interactive classroom" to learn about different emergency need items they could select on behalf of their school as donations to refugees in the DRC by UNICEF. The items the students were allowed to vote on include basic family water kits, vaccines, first aid kits, protein biscuits, anti-malaria mosquito nets, and sporting equipment.
Students at the school expressed concern for the situation in the DRC after learning about the death and destruction in the region. Globalissues.org lists 47 percent of deaths in the DRC have been children.
"I'll do whatever it takes to help those people because they need help," said Catherine Pabon, said a student at the school.
UNICEF says that it has helped to distribute tens of thousands of plastic sheets, bucket and blankets, and more than one million water purification tablets to displaced people from the DRC.
Harlem's Children Zone began in 1970 as Rheedlen, as the city's first truancy-prevention program. According to the website, Harlem Children's Zone offers innovative efficiently run programs that are aimed at breaking the cycle of generational poverty.
CNN's Terence Burke and Elisabeth Brubaker
If you would like to choose your own UNICEF inspired gift and learn more about the numerous organizations working to help children in the Democratic Republic of Congo and around the world, please visit Impact Your World.