UPDATE 7/1/09: The board of Army Officers decided Tuesday to recommend Choi be discharged for violating the military's "don't ask, don't tell" policy. The final decision, however, could take up to a year to be made.
6/30/09: Lieutenant Dan Choi faces a board of Army Officers today, which will determine the fate of his military career. Lieutenant Choi violated the military's "don't-ask, don't tell" policy earlier this year when he shared during a television interview that he is gay. He received a dismissal letter from the Army shortly afterward, but decided to fight it. Choi says that despite the consequences, he doesn't regret his decision to come out. He says that if he is discharged it is his platoon that is being punished, not him, and that he refuses to lie and hide his identity. Choi is a West Point graduate and fluent in Arabic.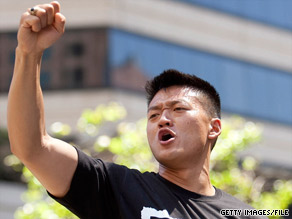 Choi says he believes being a leader for gays in the military is more important than following what he believes is an unfair law needing to be appealed.
We want to know what you think is the right decision regarding Choi's military future. Should the board let him continue to serve his country and platoon despite his violation of "don't ask, don't tell" or should he be discharged?