PLAINS SIZZLE FIZZLES
Afternoon high temperatures will drop by almost 20 degrees in portions of the central and southern Plains by Saturday. Triple digit temperatures in Oklahoma City, Dallas and Tulsa will give way to afternoon highs in the low- to mid-80s this weekend.
There's a slight risk of severe storms along a cold front extending from the mid-Mississippi River Valley westward into the central and southern Plains. Damaging thunderstorm wind gusts and large hail will accompany the stronger storms and an isolated tornado or two can't be ruled out.
The tropics are quiet in the Atlantic. However, the eastern Pacific Basin is active with two named tropical cyclones – Tropical depression Carlos and Tropical Storm Dolores. Both storms are not expected to threaten land and will remain in the open waters of the Pacific until they dissipate.
If you see severe weather, send photos and/or videos to ireport.com. You can also send tweets to cnnweather.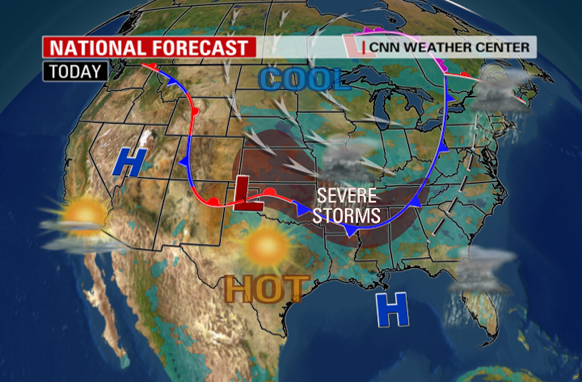 Today's national weather forecast from the CNN Severe Weather Center.