PACIFIC RECORD HEAT ENDS TODAY
Seattle recorded a record high temperature for the day of 96 degrees at the airport and 100 degrees at the National Weather Service Forecast Office yesterday afternoon. Temperatures will still run about 10-15 degrees above normal in interior northwestern Oregon and western Washington. Temperatures will begin to moderate this weekend as onshore flow from the cool Pacific waters becomes stronger. An air quality alert is in effect for the Seattle Metropolitan Area today.
SEVERE STORMS
Severe thunderstorms will be possible along the eastern seaboard. There's a slight risk of severe storms in Boston, NYC, the Nation's capital and southwestward into the Atlanta metro area. The greatest threat from these storms will be urban flooding, flash flooding, dangerous lightning, and gusty winds. An isolated tornado can't be ruled out across the Northeast, but chances are less than 2 percent.
THE WEEKEND
Wet weather will continue across the Southeast as a series of weak frontal boundaries interact with rich tropical moisture from the Gulf. Strong thunderstorms are expected each day. Flash flooding and dangerous lightning, along with gusty winds will accompany the stronger storms. Temperatures will be unseasonably cool across the northern tier states with overnight temperatures dropping into the upper 30s and low 40s. Record low temperatures will be possible in Montana and North Dakota.
If you see severe weather, send photos and/or videos to ireport.com. You can also send tweets to cnnweather.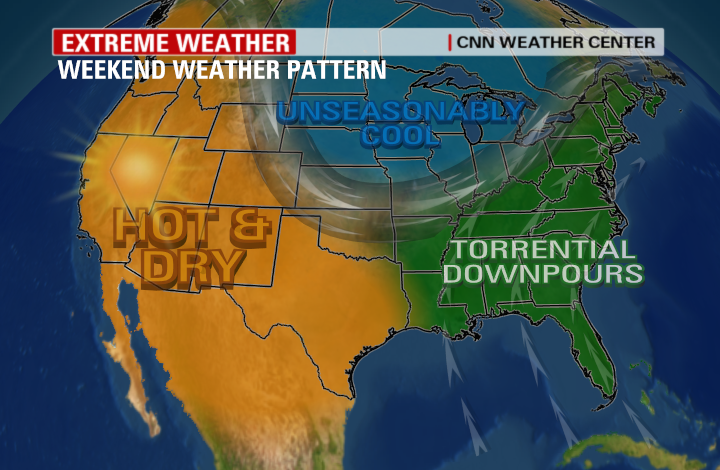 An extreme weather pattern will set up across the Nation this weekend with cold temperatures across the northern tier states, torrential rain along the Eastern Seaboard and hot and dry conditions in the West.