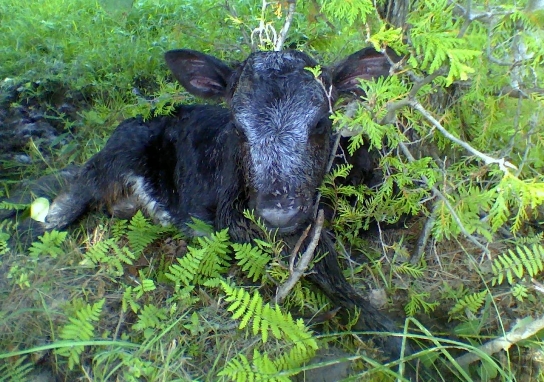 Photo by Deborah Feyerick
Her name is Norma Jean, and she had a pretty rough entry into the world. That much we knew. But there was so much more we WANTED to know about our new favorite bovine, so we wrangled some details from CNN correspondent/cow midwife Deb Feyerick.
She writes:
I snapped this picture four hours after the calf was born. We found her stuck in the mud, not too far from where we delivered her. The farmer pushed her up the hill a little and she settled in under these trees.
We called her Norma Jean in honor of Billy Crystal in "City Slickers", who names his cow Norman. She started out as Norma, but I spiced it up to give her little somethin' special.
Awwwwww! Too cute, right?
But wait:
Our farmer actually sold Norma Jean for about $75 to another farmer. She was half Holstein and half Jersey, making her smaller and reducing her milk production about 15-20% - 100 pounds a day compared to 120 pounds a day.
We believe Norma Jean is somewhere between Vermont & NY. 🙂
I don't know about you, but I kinda envisioned "our" calf living the life of a barnyard celebrity - maybe going on to star in one of those Happy California Cow ads. Blargh!