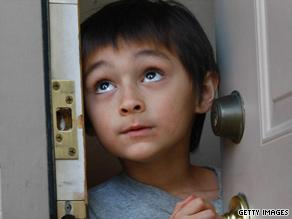 Many feared 6-year-old Falcon Heene had stowed away in a runaway Mylar balloon that was speeding across the Colorado sky yesterday. He was later found hiding in his family's attic.
In an interview with CNN's "Larry King Live," Falcon said he heard his parents call for him from the garage. When asked by his father on-air why he didn't respond, the boy replied, "You guys said we did this for the show." When Falcon's father, Richard Heene, was pressed to explain what his son meant, he became uncomfortable, finally saying he was "appalled" by the questions, adding that Falcon was likely referring to all the media coverage.
Authorities say they don't believe the case is a hoax, but will question the family further in light of the boy's comment on CNN.
So what do you think?
Leave us a comment. We'll share some of them on air in the CNN Newsroom, 11am — 1pm ET.