"Changing the world two feet at a time." That's the motto of The ASHE' Foundation, which just shipped 10,000 pairs of shoes and more than two tons of medical supplies to Ghana.
Below, CNN Producer Annika Young explains why she went to Los Angeles to meet the people behind the massive shoe drive.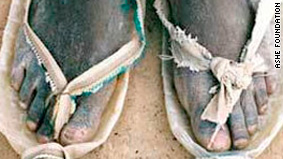 (Click Here for Photo Slideshow)
I have shoes, several pairs in fact. Tennis shoes, pumps, wedges, sandals, flip flops, even cowboy boots. I have shoes. I never imagined not having shoes. Admittedly, I never gave much thought to the fact that somebody, somewhere, doesn't have one pair. Does that make me a bad person? Don't misunderstand me. I ache over homelessness and poverty. I pray for the "big" things, but I never thought about shoes.
Dion Fearon did. She is the founder of The ASHE' Foundation. ASHE' is a Yoruba word that means "the power to make things happen." Fearon made something happen after receiving an e-mail bearing the image of feet clad with flattened two-liter soda bottles, fastened only with strips of fabric. It was that imagery that tugged at Fearon until the tugging became a pull and the pull a push to start a movement that became "Shoes for Africa."
The ASHE' Foundation's mission is change the lives of millions of children in African nations who have been orphaned by HIV and AIDS. It was after hearing Fearon's story and then meeting her in person, so bright-eyed with passion and purpose, that caused me to examine myself, head to toe.
Now I see shoes. I see what a new or gently worn pair of shoes can mean for a child who has never owned a pair. I see shoes like The ASHE' Foundation sees shoes. I see the importance of "doing" something. You may never be the one to start a foundation or write a check, but the idea is to do "something."
–Annika Young, CNN Writer/Producer
============================================
To learn more about The ASHE' Foundation and its upcoming mission to Ghana and it domestic effort "Shoes for L.A." log on to www.theashefoundation.org.