Note from Kyra: Some of my most memorable segments for CNN have been covering the war in Iraq.
One experience I have never forgotten was my visit to Baghdad's school for the blind in 2008.
The kids touched my heart .
When I reached out to the Perkins School for the blind-made famous for educating Helen Keller–they didn't hesitate to donate equipment to teach these kids.
I hope you are as thrilled as I am with the follow up from my colleague Mohammed Jamjoom.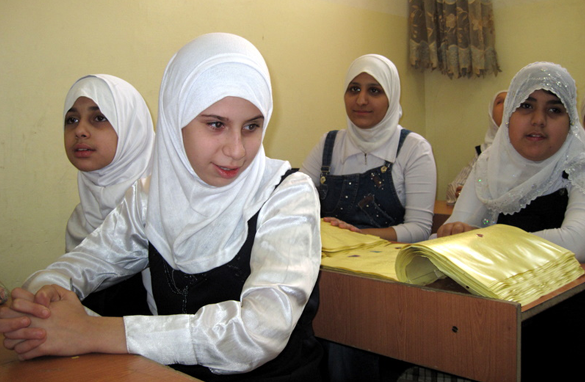 AL-NOOR SCHOOL FOR THE BLIND
By Mohammed Jamjoom
CNN's Mohammed Tawfeeq contributed to this
Kids in school rarely smile so much, or sing so loudly. But at Baghdad's Al-Noor School for the Blind, there was reason to celebrate, as much-needed Braille learning materials from the U.S. had finally arrived.
It was the second batch of supplies donated from the Perkins School for the Blind since CNN's Kyra Phillips first visited and profiled the Al-Noor School last year. Because getting this aid from the US to Iraq isn't easy, Perkins partnered with International Relief & Development for the special delivery.
Ernest Leonardo, Chief of Party for International Relief & Development in Baghdad explained how gratifying it is to witness the school kids receive these supplies.
"When you see service, or in this case equipment delivered to children who are looking to understand how the world is and their thirst for knowledge, and they're sitting at these tables and looking at this equipment and wondering, what comes next, how do we see the world? And that's just fascinating for us – it's a good project," said Leonardo.
Al-Noor is the only institute of its kind in Baghdad – it serves 71 students. On this day, a festive atmosphere surrounded the school when the delivery truck arrived.
Everybody we spoke with, students and teachers alike, were extremely thrilled at the prospect of getting new Perkins Braillers and Braille paper, among other supplies. But, by far, they were most excited by the delivery of the school's first Braille printer; which will allow them to do in minutes what once took days.
[cnn-photo-caption image=http://i2.cdn.turner.com/cnn/2009/images/11/19/school_for_blind_1.png caption="Students use brailers at Baghdad's school for the blind."]
Once the boxes had made it inside and the Braille Printer had been unpacked, some of the students put on a concert in the school's main corridor. They sang songs of national pride to express their joy and thanks.
For 11-year-old Safa, the significance of these donated supplies is clear. To her, the chance at a better education meant the chance at a better future.
"I want to become a teacher so I can help my people and my country," said Safa. "And I want to teach the students that come after me – to teach them the way I was taught."
The hope now is that this desperately needed program will continue.
"There are other kinds of contributions that are coming in Iraq," said Leonardo. "We can talk about that later, but this is one that really gets to your heart. You can see the smiles on the kids – nothing better than that"