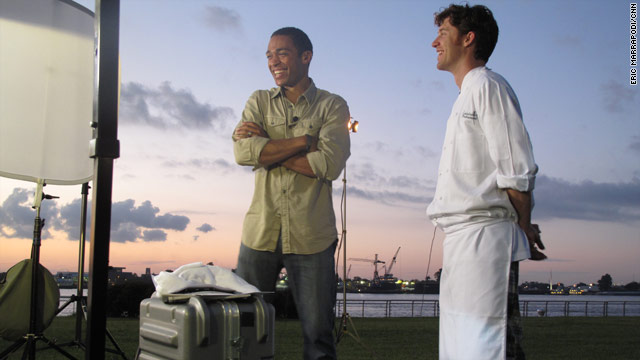 T.J. Holmes and Brian Landry, Executive Chef of Galatoire's Restaurant
Just looking at New Orleans, you wouldn't think a disaster was upon us. A walk along the river is still picturesque. Canal, Bourbon, and Frenchmen streets are still jumping until 5 a.m. Again, just looking at the New Orleans, you wouldn't think anything was wrong. But, start talking to people in New Orleans, and it's clear that something is terribly wrong. Two of the biggest disasters in this country's history have happened within 5 years of each other and happened to the same region. You could easily see Katrina's devastation, but you've got to talk to people to get a real sense of the oil devastation. Every conversation I have had during my weekend trip to New Orleans was in some way a demonstration of the toll the leaking oil is having.
Here are just a few of the people I met:
A cab driver who actually moved to New Orleans from New York after 9/11. At the time, he was hoping to escape a city so devastated by disaster. He's now questioning his decision to relocate.
A fisherman who has been doing it for 40 years who described fishing these days as "fighting for scraps."
A Vietnamese crab manufacturer who has been in the fishing industry since he came to the country in the mid-70's. He's closing his business Sunday because the area where he gets his supply of seafood is now closed to fishing. He has no idea what else he can do for a living.
And, a man who was born and raised in New Orleans who summed it up this way: "I don't know what our ancestors did to piss off the Gods, but we're paying for it now."
And, I promised another local I would pass his message along. He reminded me that after 9/11, Americans were asked to visit New York to spend money and support the city. He said New Orleans and the Gulf Coast need you to now visit them.
I have always loved this city, just like a lot of other folks. But, watching how this city keeps bouncing back from disaster, makes you love it even more.
T.J.